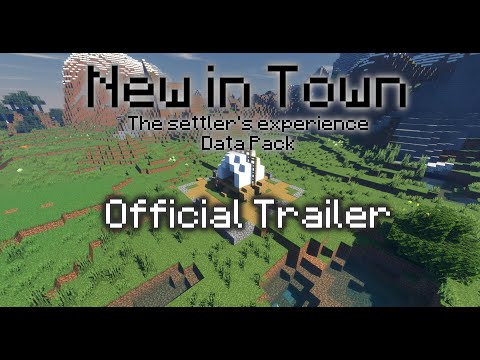 Welcome to the New in Town Wiki!
This is a community website, to be used as a resource for the New in Town Data Pack for Minecraft. Anyone, including you, can build and expand on this, but please ensure that your information is accurate and founded.
New in Town is a Data Pack for Minecraft created by kanokarob. It is a settler's experience that has the player develop and defend a town with modular layout from the forces of the Nether, progressing through story beats as they establish themselves. It currently features three parts with distinct, but connected mechanics.
New in Town: Kingdoms allows the player to start from a humble wagon and develop a town in the Overworld. As they progress, forces from the Nether will attack, eventually culminating in the appearance of the Tyrant, a unique Wither and the primary antagonist of the story.
New in Town: Counteroffensive has the player follow the Tyrant into Nether. They construct a Nether fortress of their own design and reveal, visit, and extinguish the Tyrant's various bases.
New in Town: Refugee serves as the finale to the Tyrant storyline, wherein the player must curb the Nether's full-on invasion of the End dimension, and then build a new home for the Endermen made refugees by the Tyrant's last act of evil.
It will also feature an upcoming Dimensions update, which is currently in beta and can be accessed via the discord (https://discord.gg/K97HnZccAb)
New in Town Sub-Plots
[
]
Need help building out this community?
You can also be part of the larger Fandom family of communities. Visit Fandom's Community Central!
Community Founders: Write a good and paragraph-length description for your welcome section about your topic. Let your readers know what your topic is about and add some general information about it. Then you should visit the admin dashboard for more tips.